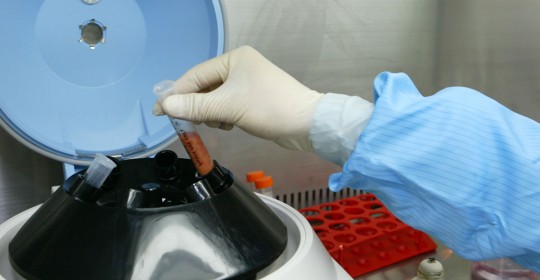 Simple, non-surgical injections as a new means of treatment
K-Stem Cell Co., Ltd. (CEO Kim Sang-gyo), a prominent enterprise specializing in adult stem cell technology in Korea, announced today that it has obtained approval for the 2-b and 3-phase clinical trial on JointStem, a stem cell treatment agent for degenerative arthritis, from the Ministry of Food and Drug Safety (MFDS) of Korea.
Degenerative arthritis (osteoarthritis), which is the most prevalent joint disease, refers to a condition in which the cartilage covering and protecting the ends of bones are worn out. Generally, degenerative changes in the joints appear at the age of 40, and symptoms of degenerative arthritis are observed in more than 50% of the affected patients at the age of 60.
At present, drug therapy for degenerative arthritis mainly involves the use of analgesics, anti-inflammatory agents and lubricants for the joints. This type of therapy can relieve pain and stiffness, but it fails to ultimately stop the progress of the disease. Thus, there is an urgent need to develop a new therapeutic agent that is safe and effective.
JointStem is a stem cell treatment agent developed for the purpose of treating degenerative arthritis. It involves collecting a small amount of subcutaneous adipose tissue from the patient, and extracting the stem cells from the adipose tissue to be cultured and injected into the knee joints of the patient.
Following MFDS' approval in 2008, 1- and 2-phase clinical trials were conducted to assess the safety and efficacy of JointStem, with the participation of degenerative arthritis patients. The results of the drug tolerance assessment, in which the dosage was increased gradually, showed that JointStem is highly safe to use at low and high dosages. Based on these results, the dosage and administration method was determined to be "100 million stem cells per single injection for each knee joint."
The safety and efficacy of JointStem were then assessed, based on the determined dosage and administration method, and it was shown that a single injection into each of the joints not only ameliorated the joint function and pain, but also led to the regeneration of cartilages. The clinical trial results regarding the effects of JointStem on degenerative arthritis treatment were published in "Stem Cells," a famous international scientific journal, early this year and received the spotlight.
Dr. Shin Il-seop, the Head of the Clinical Development Division of K-Stem Cell, said, "JointStem is a safe and convenient stem cell treatment agent that provides a fundamental solution for mitigating the multiple symptoms of degenerative arthritis. By proving the outstanding efficacy of JointStem through a large-scale, multi-institutional clinical trial that includes a control group, we will set the global standard for degenerative arthritis treatment."
Nature Cell, which concluded the contract for the rights to sell JointStem in Korea in 2013, announced, "We're happy that the clinical trial on JointStem has been approved. We will provide our cooperation to facilitate its commercialization."
Leave a reply