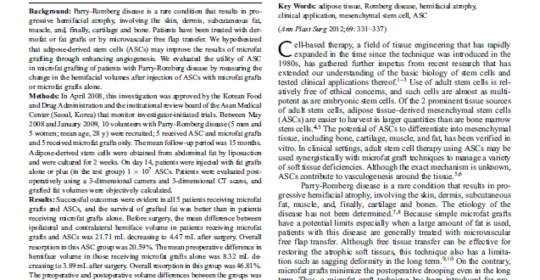 The Biostar Stem Cell Research Centre (CEO: Ra Jeong Chan) run by Nature Cell and R-Bio announced that it has completed a registration process for an orphan drug in developmental phase for Parry-Romberg Disease, by receiving an official recommendation by The Korean Society of Plastic and Reconstructive Surgeons.
The administration as well as the indicant of the orphan drug targeted for Buerger's Disease will be delivered. Also known as Progressive Hemifacial Atrophy, Parry-Romberg Disease is a rare disease that causes facial tissues to progressively shrink, a cause to which has not been verified yet. Parry-Romberg Disease is a irreciprocal disease that has no known method to restore once occurred. Patients currently resort to treatment method that transplants one's own fat into the affected area; however, the transplanted fat soon gets absorbed into the body. Currently, there is no cure for the disease.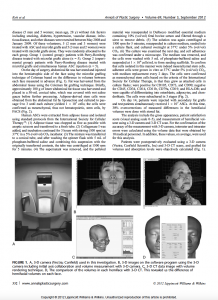 In 2008. Biostar Research Centre carried out a clinical trial for Romberg Disease in Seoul Asan Hospital following an official approval of Korea Food & Drug Administration (KFDA). Among 10 participants of Parry-Romberg Disease clinical trial, five were given transplant treatments of both microfat as well as adipose tissue-derived stem cells from intermediate lobe, and the other five were given transplant treatment for only microfat. The result for the trial showed that the first group that received both treatments including the stem cell treatment exceeded the other group in satisfaction level as well as the facial symmetry level, and the maintenance level of transplanted fat measured by 3D camera. The clinical trial result was officially published in a global academic journal Annals of Plastic Surgery in 2012 September.
After receiving an official recognition of Vascostem as a designated orphan drug in developmental stage for Parry-Romberg Disease, Biostar Research Centre plans to launch a commercial clinical trial in the beginning of 2017 to further corroborate the drug's effectiveness as well as safety. The Centre expects that it can complete the clinical trial process by the end of 2018, and plans to begin the treatments for the patients.
Dr. Ra Jeong Chan, Director of both Biostar Research Centre and Nature Cell, expresses his opinion that "the likelihood of a successful development of Vascostem, a stem cell treatment that utilizes stem cell for revascularization, into the mature stage is highly probable," and said that he "expects an active administrative support that considers the benefits the drug can bring to both patients and to the nation.
Leave a reply