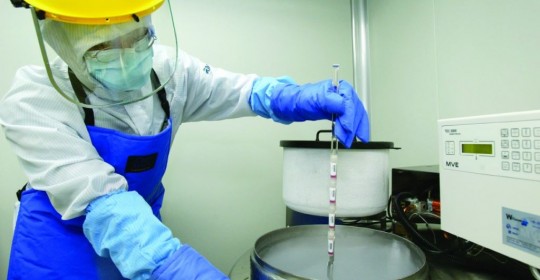 A cell cultivation method that maintains stem cells in a small size

Promoted safety and effectiveness of cell therapy involving intravascular administration
K-Stem Cell (formerly, RNL Bio), a bioscience enterprise, announced that the patent for the "method of manufacturing stem cells in an appropriate size for intravascular administration(Patent Application No. 10-2012-0040488)," for which the application process was completed in 2012, was accepted for registration by the Korean Intellectual Property Office (KIPO) on November 20, 2014.
As it is widely known, mesenchymal stem cells have a "homing" ability, through which they find their way to the areas of damaged tissue. For this reason, therapeutic efforts using stem cells have been made in relation to the circulation system, and of the applied methods, intravenous administration has been gaining attention from numerous researchers as it serves especially useful in treatment of diseases.
However, in order for intravenously administered mesenchymal stem cells to reach the target area for therapeutic effectiveness, there is a need to use stem cells in a size appropriate for intravascular administration so as to prevent interruptions in the blood flow and formation of blood clots (thrombi).
A comparison of the research results pertaining to mesenchymal stem cells reported by various research teams shows that stem cells vary substantially in terms of their sizes according to the cultivation method, even if their biological properties are similar. Of particular note, there have been several cases in which the stem cells were of a size that was a cause for concern if they were to be administered into the bloodstream. To explain, relatively larger mesenchymal stem cells not only reduce the speed of blood flow, but also inhibit blood circulation and cause blockage of blood flow, formation of blood clots and occlusion in the blood vessels. Thus, it is of the utmost importance, from the perspective of safety, to manufacture stem cells in a size that is appropriate for intravenous administration.
The patented method of maintaining mesenchymal stem cells in a small size is of great significance as it confirms the possibility of maintaining the size of stem cells similar to that of lymphocytes present in the bloodstream, while increasing their number to what is required for treatment at the same time during the cultivation process.
Dr. Ra Jeong-chan, who headed the R&D project, said, "We have secured the technology to culture stem cells in a small size that is appropriate for intravascular administration, which now allows us to use outstanding stem cells that can effectively migrate to the target area with low concerns of adverse events. This will substantially promote the effectiveness and safety of cell therapy involving intravascular administration, and it will also contribute to the project on the development of stem cell therapy for Alzheimer's and cerebral palsy that we are jointly conducting with Nature Cell."
Leave a reply